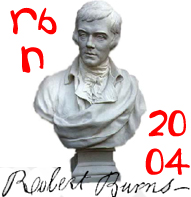 Mickey's address:
3627 Chesapeake St. NW
Washington DC 20008

Or, set your GPS to:
N 38° 57' 03.1"
W 077° 04' 16.8"
Thanks to all for another successful party! See you next year!
Almost every year for the last 11 years, I have held an annual tribute to Robert Burns (1759-1796), the National Poet of Scotland each year at my apartment. This year the party is on January 24, 2004 (the day before the Bard's actual birthday), at 8:30 pm at Mickey's house. If you have received an invitation, congratulations!

RSVP quickly!
||
alternate address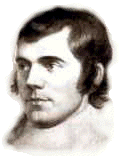 Read the Frequently asked questions
Learn more at these links

Features:
whiskies featured at previous years' parties
recipes from the 2004 menu, and some previous favorites, too.

At the moment, I don't have this year's whisky list. When I do it'll be featured here, too.